CELIA ROSENBERGER
Violin, Viola, Cello,
Celtic Fiddle, Baroque Violin, Chamber Music
I teach all levels ages 5-95+, I have 40 yrs experience teaching. I strive to give everyone the skills to play the music they are passionate about, in a fun and supportive environment.
Click the Play button to hear a short clip of Celia playing violin: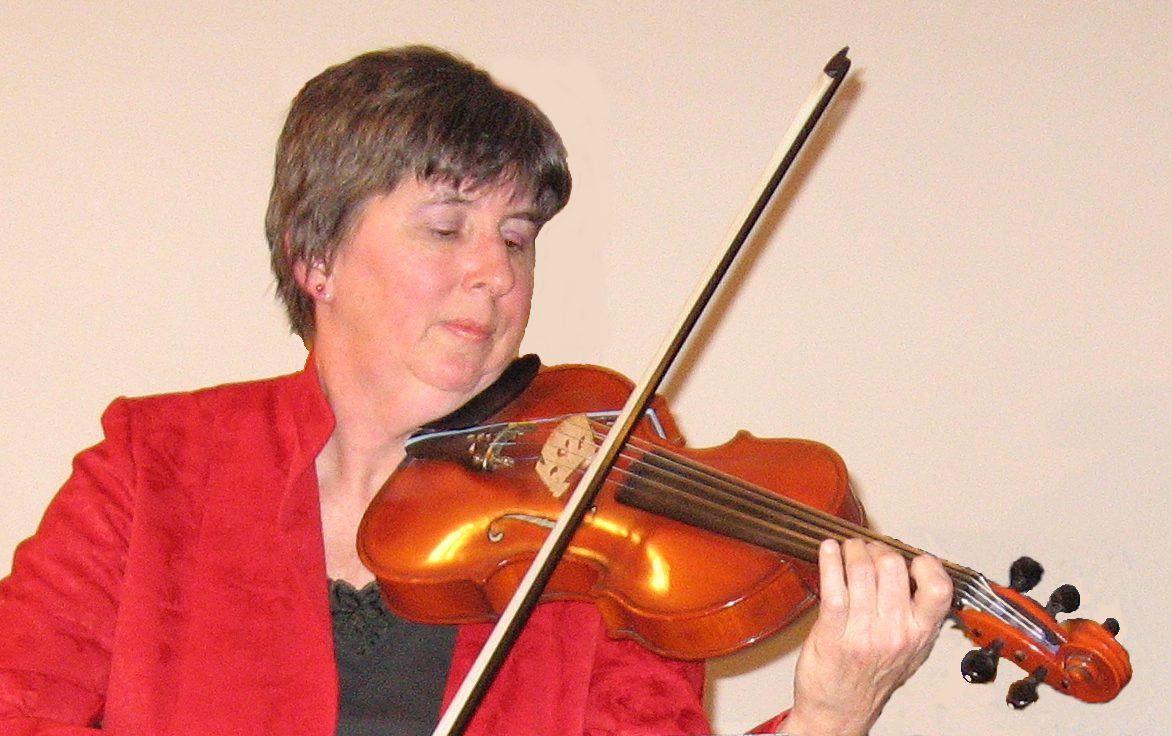 I am a classical violinist and teacher by trade and training. I also play Irish and Celtic fiddle music, perform on the violin, viola, cello, and recorder, teach an assortment of instruments to people aged 5 to 95+, direct the Lopez Youth Orchestra and the Lopez Chamber Orchestra, and play with the Starry Night Chamber Orchestra.
I also build personalized, one-of-a-kind websites for musicians, teachers, churches, and others. I built the Peterson Conservatory website. Visit web4musicians.com and contact me at if you are thinking about getting a website!
Phone: home: Email:
My teaching website: Celia's Music Studio
My webbuilding site: web4musicians.com
I Teach:
violin, viola, cello, double bass, piano, recorder, Celtic fiddle, Baroque violin, and chamber music ensembles. I welcome beginners of any age, resumers, advanced students, and everyone inbetween!
My Philosophy of Teaching
Working with Children
It is my observation that everyone, given normal hearing and intelligence, is capable of learning to make music. Working with 2-year-olds as a Kindermusik teacher showed me that learning music is as natural as learning to speak, and actually is part of the same process.
Talent is not inborn. It is created by environment, by family, by schooling, by society. Certain things like the potential for perfect pitch or excellent fine motor control are inborn, but are not required for the development of musical "talent". The great teacher Shinichi Suzuki dedicated his life to developing Talent Education, and proved that given the right environment, all normal children can become "talented".
My teaching philosophy begins with the recognition that most children know what instrument they want to play. They are drawn to the instrument that calls to them. Then, wherever they are in development, that's where we start. Most children never have one-on-one time with a teacher, so I spend time getting to know each student, creating a relationship where it is safe for the child to express his or her own opinion, to make choices, and to play the music he or she is passionate about. I structure technical and theory studies to give each child the ability to play any kind of music, and schedule group classes and performances so the children learn to play in an ensemble.
The ensemble is an opportunity for me to expose the students to a concept that is rare in our society, Peaceful Cooperation. Music can be taught competitively, but I find it much more valuable to make it an opportunity to teach leadership, personal responsibility, and service to the community. I asked my group one day what their music meant to them, using single words. Here's what my middle schoolers came up with: Pride, Emotion, Enlightenment, Concentration--Invigorating, Exhilarating, Enchanting. "We bring the audience to an inner place, where they can get closer to themselves"--an 11-year-old! These are remarkable people who find personal satisfaction and expression in music-making and I am proud to spend time with them.
Working with Adults
The population of adults who are just beginning an instrument or starting a new one is growing exponentially. As children go off to college and get jobs, suddenly there is time and money to do something for oneself! Adult music camps, festivals, workshops and seminars are popping up all over. It is now well accepted that taking up an instrument or learning a new one later in life is excellent for the health of brain and body, and offers social opportunities in an increasingly isolated world.
I am constantly amazed and humbled by the dedication and perseverence of my adult students. They struggle with arthritis and tendon issues and time constraints and yet they are fulfilled and renewed by their music. My primary goal, after teaching them to get around on their instruments, is to help them learn to play in a group so they can enjoy the pleasures of ensemble playing.
My Education
UC Berkeley 1968-70, 73-75, music major, no degree (left when offered job with SF Ballet Orchestra)
Private study in London, England, with Szymon Goldberg, 1970-73
Mills College 1988-91, BA in Child Development and Early Childhood Education
Teachers (Professional training)
Naoum Blinder (Yehudi Menuhin's teacher)
David Abel, William Pynchon (students of Mr. Blinder)
Szymon Goldberg (former concertmaster of the Berlin Philharmonic, student of Carl Flesch, director of the Netherlands Chamber Orchestra)
Colin Hampton, chamber music
Margaret Rowell, chamber music
Frans Brueggen, early music performance practice
Master Classes and workshops with:
Janos Starker
Dorothy Delay
Paul Rolland (pedagogy)
Kato Havas (pedagogy)
Sigiswald and Wieland Kuijken (early music performance)
Various Irish fiddlers
Edinburgh (Celtic) harp festival/workshop
Work Experience
Private music instructor (children and adults) since 1973
San Francisco Ballet Orchestra, first violin section, 1975-78, 1980-85
San Francisco Opera Orchestra, first violin section, 1976-78, 1980-85
St. Paul Chamber Orchestra, 1978-80
Freelance concertmaster and chamber musician, San Francisco Bay area, 1969-78, 1980-91, and the Pacific NW since 1991
Faculty, San Francisco Conservatory of Music, Preparatory Department (pre-college) 1989-91
Lopez Youth Orchestra (children ages 8-18) director, privately and through the Lopez Public School, since 1993
Music Director, Community Shakespeare Company, Lopez Island, 2002-2008
Lopez Chamber Orchestra since 2005
Camp Manager Summer Sounds Music Camp, 2008, Music Coach 2011-present
Member of the Starry Night Orchestra since 2010
Concertmaster of the Jefferson Baroque Orchestra, 2010-2012
I have been designing and building websites for 12 years (I built this website) and I have a special interest in providing affordable websites for musicians and churches. Contact me at for information about websites!