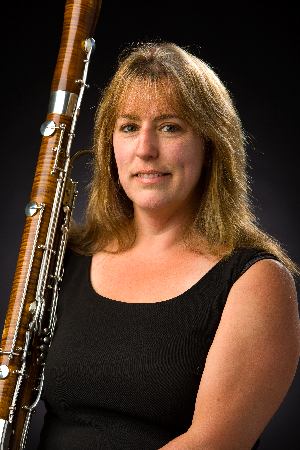 Originally from Rhode Island, bassoonist Pat Nelson has made a home in the Pacific Northwest and performs with Skagit Opera, Starry Nights Chamber Ensemble, Impromptu, and Zephyr Winds. In 2001, she became the bassoonist with the Westwood Wind Quintet and appears with them on the Crystal Records label in their latest release of the complete quintets of Anton Reicha.
She has been a guest artist and instructor at Musicfest in Wales, the Utah State Music Camp, Summer Sounds in Washington, the Wright State University Double Reed Day and at California State at Long Beach. She is a founding member of the Sapphire Wind trio that is based in Ohio and is currently working on a cd of contemporary works for flute, clarinet and bassoon.
Pat received a Bachelor of Music from the University of North Carolina, a Masters of Music from Northwestern University and post-graduate studies at the University of Arizona. Her teachers include John Pederson, Robert Barris, and William Dietz.