Youth Symphonies in NW Washington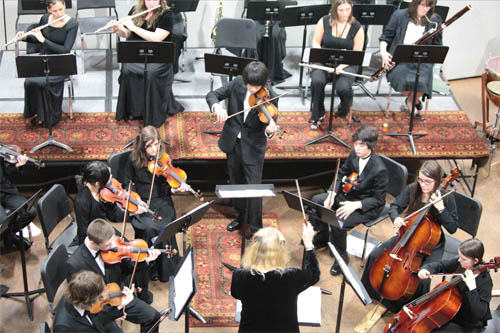 The Mt. Baker Youth Symphony in Bellingham and the Fidalgo Youth Symphony in Mt. Vernon each have three performing groups: Sinfonette, Junior Symphony, and Youth Symphony. The groups meet for rehearsal weekly during the academic year and perform the following concerts: Fall, Holiday, Spring, and Season Finale.
Youth Orchestra Groups
Sinfonette
The Sinfonette is open to anyone with one year of musical instruction on a stringed or wind instrument or at the director's discretion. This program is an excellent preparation for beginning students as they develop their instrumental skills in preparation for entrance into the Junior Symphony.
Junior Symphony
Conducted by Malcolm Peterson, this ensemble is designed for musicians with a minimum of two years of experience on their instrument. The group performs symphonic arrangements which teach the necessary musical skills needed to advance. They also join with the Youth Symphony for one finale piece per concert, creating the Festival Orchestra. No audition required.
Youth Symphony
Conducted by Sharyn Peterson, this group consists of the most experienced players, who perform challenging symphonic literature on an advanced level. An audition is required.
Rehearsals are held every Monday evening beginning September 12, 2016 at Whatcom Hills Waldorf School, located at 941 Austin Street, Bellingham, WA 98229.
Sinfonette rehearses from 6:00 pm to 7:00 pm
Junior Symphony rehearses from 6:00 pm to 7:30 pm
Youth Symphony rehearses from 7:00pm to 9:00pm
Rehearsals are held every Thursday beginning September 1, 2016 at Salem Lutheran Church, 2529 N.Laventure Rd, Mount Vernon, WA.
Sinfonette rehearses from 5:30pm to 6:30pm
Junior Symphony rehearses from 5:30pm to 7:00pm
Youth Symphony rehearses from 6:30pm to 8:30pm