Starry Night Chamber Orchestra Concerts
Amahl and the Night Visitors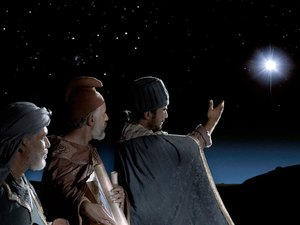 Gian-Carlo Menotti's opera tells the story of a disabled shepherd boy-turned-beggar living in the Middle East with his widowed Mother. The Magi, (Three Kings), seek shelter at their home on their way to Bethlehem to worship the Christ Child. A group of shepherds join the festivities of the evening, to entertain the Kings with food and dancing. The Mother is tempted to take a gold piece during the night, which leads to a heart-rending yet satisfying conclusion including a miracle, some gentle humor, and a terrific aria by King Melchior: "His might will not be built on your toil-on Love, on Love alone, He will build His Kingdom… "
Mother: Avah Moles, Melchior: Nathaniel Voth, Amahl: Benjamin Lann, King Kaspar: Benjamin Maes, King Balthazar: Jacob Lann
A professional ensemble, the Starry Night Chamber Orchestra, conducted by Sharyn Peterson, will provide the instrumentation. Come celebrate the holiday in a meaningful yet entertaining way!
Performances Sunday, Dec 17, 2017, 7:00 pm, at the Bellingham Covenant Church, 1530 E Bakerview Rd, Bellingham, WA 98226 Map
and Tuesday, Dec 19, 2017, 7:00 pm, at the Lincoln Theatre, Mt Vernon, WA.